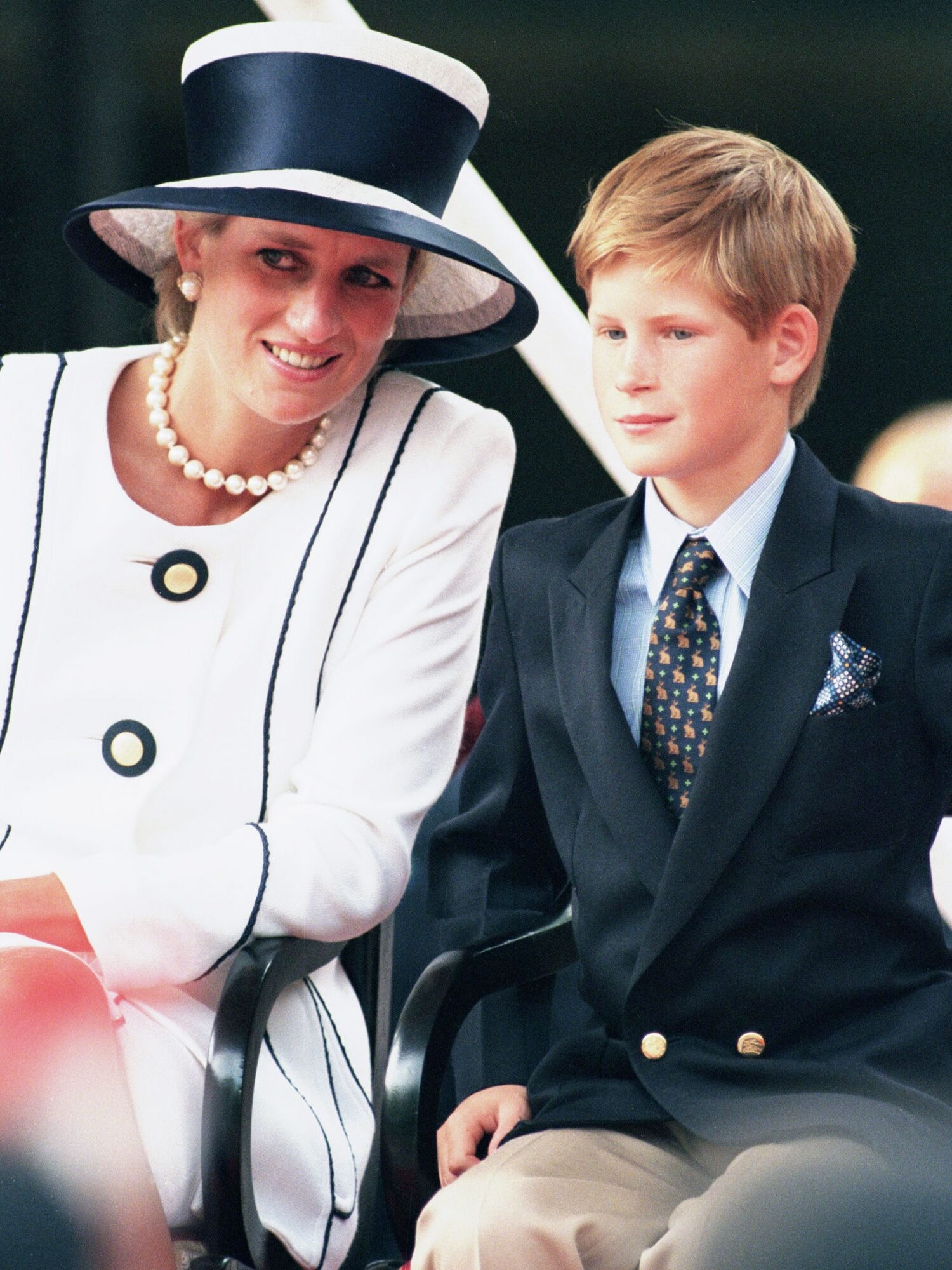 Prince Harry told this year's Diana Award recipients in a video address that he and Meghan Markle "fundamentally believe that our world is at the cusp of change, real change for the good of all"
Prince Harry Surprises Diana Award Honorees, Says Princess 'Would Be So Proud of You All'
Prince Harry told this year's Diana Award recipients in a video address that he and Meghan Markle "fundamentally believe that our world is at the cusp of change, real change for the good of all"
Harry made a surprise video address to a ceremony honoring the latest group of young people getting Diana Awards for their humanitarian work and community action.
"I'm truly honored to be celebrating your work, your commitment to change making and the vital role that you've taken on representing a new generation of humanitarianism," Harry, 36, said in the address.
"Later this week, my brother and I are recognizing what would have been our mum's 60th birthday," Harry continued, "and she would be so proud of you all for living authentic life with purpose and with compassion for others."
He said, "Our mum believed that young people have the power to change the world. She believed in your strength because she saw it day in and day out and in the faces of young people exactly like you, she witnessed a boundless enthusiasm and passion."
He added of wife Meghan Markle: "Meg and I fundamentally believe that our world is at the cusp of change, real change for the good of all."
Tessy Ojo, the chief executive of the Diana Award charity tells PEOPLE of Harry's address, "It is such an honor to have the Duke of Sussex saying this wonderful message of congratulations to the young people. For him to say to the young people that his mother would be proud of them means so much. It is such an honor that he is proud of the young people and the work they do. And it is such a massive pat on the back for them and their families.
"Every time her sons talk about the pride they have in the work that is being done in her name, brings me so much joy," says Ojo.
Harry – who arrived in the U.K. late last week in order to unveil a statue dedicated to his mother alongside brother Prince William on Thursday – was talking as he introduced 16-year-old Louisville, Kentucky, resident Jacqueline Teague, one of the 25 young people from the U.S. Teague was being rewarded for her work in helping people get vaccinated, and Harry spoke in his address about how those most adversely affected by COVID-19 were those on the margins of society.
Teague was inspired by her grandparents after they struggled to sign up for the COVID-19 vaccine to launch a campaign, called VaxconnectKY, to ensure everyone in need in Kentucky could easily register for a vaccination.
He is clearly passionate about the Diana Award, which is the only charity that carries his late mother's name.
The statue is a "landmark moment. It is a bringing back home for her. It is so well-deserving, in her 60th year, to bring her back to the home that she lived in and to remember her," Ojo adds.
"She was ahead of her time. She reminds us about what humanity is about – to be able to care for others without any personal gain. She really symbolizes that and I hope that this moment will help us focus on what truly matters in society."
She continues, "The Diana Award is becoming more global. I am super honored to shine a spotlight on these young people – not just for the year we have had but also the year that we will celebrate what would have been Princess Diana's 60th birthday. Young people have had such a tough time particularly over the last 18 months so to see young heroes rising up to the challenge is so amazing."
Get the latest issue of PEOPLE Royals for glamorous new photos and inside stories royals fans haven't seen or read elsewhere! Subscribe at peopleroyals.com/launch
Ojo notes that all the young people being honored were not alive when the late Princess of Wales was setting her example of service, and yet: "Princess Diana set the tone that young people today still find incredibly relevant, it resonates with them. When I hear young people saying to us, 'If I could be half the person she was, I want to make her proud or I am trying to follow that example,' [that] says something about the incredible person and icon that she was."
There are more international honorees this year than ever, a testament to the increasing reach of the charity that was set up in her name.
Teague was among 25 young people from across America included in around 300 award winners on Monday. Ranging from age 10 to 24, they are:
Jae-Hee Bae, 17, from Centerville High School, Dayton, Ohio; Hollis Belger, 16, St. Jude Children's Research Hospital, Larkspur, Calif; Keely Cat-Wells, 24, of C Talent, LA, Calif.; Ruby Chitsey, 13, Three Wishes for Ruby's Residents, Harrison; Chloe Mei Espinosa, 14, Skip The Plastic Straw, Newport Beach, Calif.; Jordan Grabelle, 16, Love Letters for Literacy, Voorhees, NJ; Daisy Hampton, 12, Including You, NYC; Nika Hirsch, 10, This Life Rocks, Northfield, Mn; Jui Kankari, 16, Chicago, Mich.; Aviva Klein, 24, University Blood Initiatives, Chicago, Mich.; Siya Kulkarni, 17, Project Enable Mount Olive, NJ; Krystian Leonard, 24, Shining S.C.A.R.S, Morgantown, West Virginia; Peyton Money, 9, Octopuses for Preemies, Williamston, S. Carolina; Caleb Oh, 16, Kid Changemakers, Crofton, Maryland; Apoorva Panidapu, 16, Apoorva Art Gallery/Save the Children, San Jose, Calif.; Swara Patel, 18, The Period Society, NYC; Dana Parella, 10, Cookies4Cures, Boulder, Co.; Pranavi Reddi, 16, Kindness4All, Frisco, Texas; Victoria Ren, 16, Stem and Buds, Pittsburgh, PA; Emmabella Rudd, 19, Juvenile Diabetes Research Foundation, Tallahasse, Fl.; Sierra RyanWallick, 23, Autumnleaf fundraisers, Landenberg, Pa.; Jeeva Senthilnathan, 19, Privando, Denver, Co.; Neeha Shukla, 16, Innovation Corner, Harrisburg, Penn.; Ruby Tilghman, 16, Amy Maddox Consulting, Panama City, Fl.