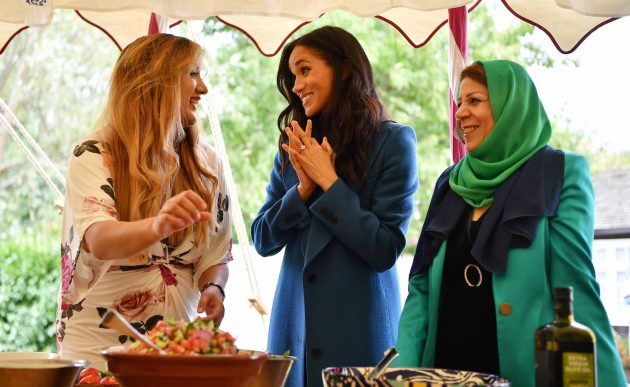 Three years of TOGETHER, OUR COMMUNITY COOKBOOK. In just one week, Meghan Markle's charity cookbook had been already a bestseller at the time.
After just one week, Meghan Markle's charity cookbook had been already a bestseller at the time.
All for a good cause!
Just in a week!, Meghan Markle and the Hubb Community Kitchen joint cookbook, sales had gone through the roof and it's had become something of a sensation. The project, titled Together: Our Community Cookbook, had become a bestseller internationally and especially in the UK. It's had been great news for the charity kitchen as all the proceeds from the book went towards their efforts. It's pretty wild how quickly it's had taken off.
According to PEOPLE, the book had racked up close to 11,000 sales in the UK and was currently the sixth most sold book on Amazon US in just a week after it had hit the selves. Amazon UK also had revealed that it was currently, the third best selling book in the food and drink category – trailing behind Jamie Cooks Italy and Deliciously Ella The Plant-Based Cookbook.
Bea Carvalho, Waterstones' Cookery Buyer, had given her views to some element of media as the book's had been picking up speed at brick and mortar shops too. Although she didn't divulge the book's sales statistics, it's apparently had been a real winner since it land on their shelves.
Bea had said, 'We've been really pleased with the success of Together. The press and social media activity following the announcement generated a huge number of pre-orders, and created a real sense of occasion in our shops when the books arrived.'
'Our sales continue to be strong and show no signs of slowing down, and the response we've had from our customers has been overwhelmingly positive,' she continued. 'We're very proud to be helping to raise much needed money for this very worthy cause.'
It was impossible to escape coverage of the book's launch at the time, as it was highly publicised as one of Meghan's first major projects as a member of the royal family. Her mother Doria Ragland also had come along to show her support and Prince Harry was spotted beaming with pride as she whizzed around, totally in her element. Even if he did sneak off with a couple of samosas when he wasn't supposed to.
The book features a foreword by the Duchess of Sussex, who met the team behind The Hubb Community Kitchen when she volunteered to cook with them for the survivors of the Grenfell Tower Fire. The BBC reported that Meghan said she felt 'immediately embraced by the women in the kitchen' and hailed the diversity of people who had come together as 'pretty outstanding'.
Featuring over 50 recipes from places as different as the Middle East and North Africa, the cookbook is a meaningful reflection of London's diverse population.
Together: Our Community Cookbook is available now both on Amazon UK and at Waterstones. Priced at just £9.99, all of its proceeds go towards funding the Hubb Community Kitchen.