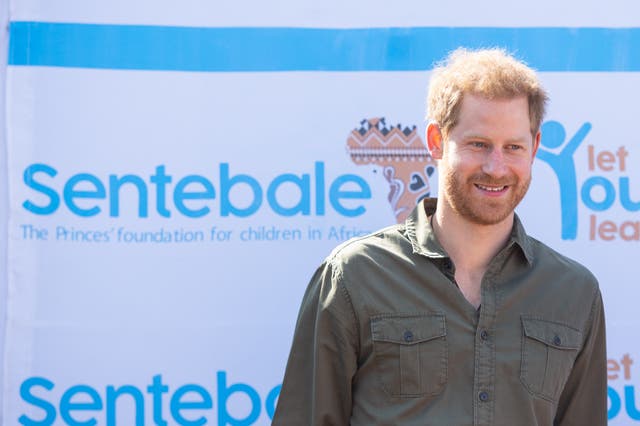 Prince Harry, the Duke of Sussex led calls for vaccines to be shared across the world. In an outspoken video, Prince Harry said monopolies on vaccine production must be ended.
Prince Harry led calls for vaccines to be shared across the world.
Speaking on World AIDS Day, the Duke of Sussex said there were comparisons between Covid and the deadly pandemic of HIV which began 40 years ago this year.
In an outspoken video, the Royal criticised what he called "political failure" to tackle both HIV and Covid – saying monopolies on vaccine production must be ended.
He said: "There are striking parallels between Covid-19 and another deadly pandemic – one that emerged 40 years ago – HIV.
"This is a story about how corporate greed and political failure have prolonged both pandemics, and what we can do to stop it."
Prince Harry drew the history of the HIV pandemic, "In the early 2000s a wave of activism helped break drug company monopolies, helping give millions of people access to generic medicines at a fraction of the price."
The video also shows the Duke of Sussex telling a cheering audience: "Many of these vaccines were publicly funded, they're your vaccines – you paid for them."
"By ending vaccine monopolies and sharing technology, companies in the developing world can start producing Covid vaccines too."
The video, released by a coalition of 80+ organisations demanding Covid vaccines be freely available to everyone, also features the Executive Director of UNAIDS Winnie Byanyima.
Ms Byanyima said: "Both have caused millions of deaths and in both cases scientific breakthroughs have meant that for many life could begin again."
She added: "Then it was access to the first antiretroviral drugs and now it's Covid-19 vaccines, and once again pharmaceutical companies are making vast profits in the rich world off life-saving medical advances while the poor are being left behind."
Warning of the dangers of not sharing life-saving vaccines, the video estimates around 12m people died in Africa alone of HIV before access to life-saving drugs became widespread.
The head of the World Health Organisation, Dr Tedros Adhanom Ghebreyesus, strongly criticised rich countries earlier this month for stockpiling vaccines while poorer countries went without.
"Every day, there are six times more boosters administered globally than primary doses in low-income countries," he said. "This is a scandal that must stop now."