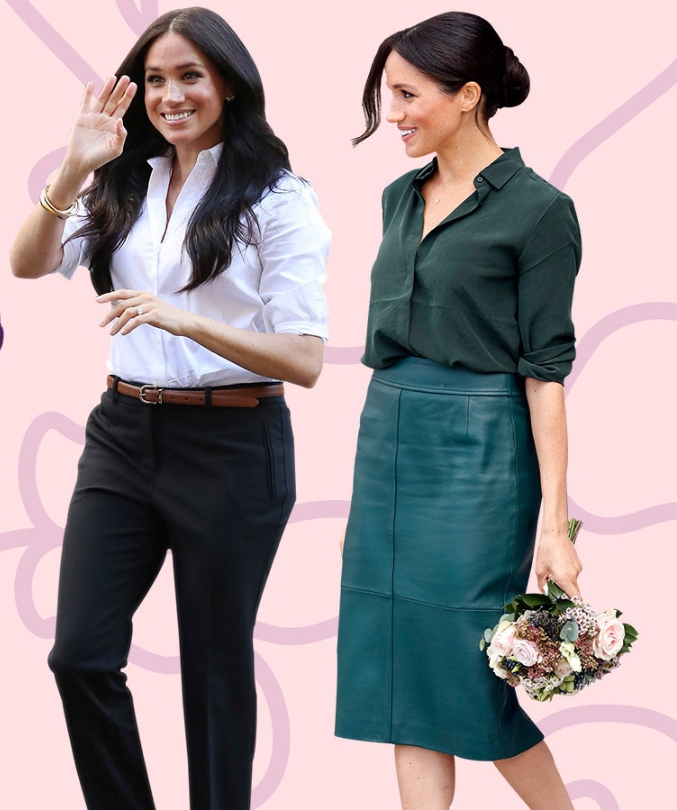 Classic garment par excellence, the shirt is reinterpreted in feminine but casual looks, sporty and with an inevitable touch of glamor, which combine it with trousers, jeans and couture skirts
Meghan Markle: her passion for the shirt
Meghan Markle teaches us how to best wear the shirt
Meghan Markle's style has always stood out for the presence of a casual and relaxed allure . Reflection of a sporty and dynamic American style, designed for a modern and energetic woman always on the move, Meghan's clothing deviates from the formal rigor of the English court in favor of a more personal and decidedly unconventional approach to the royal family. Between jeans, skinny trousers and oversized blazers, one item in particular recurs in Meghan's looks: the shirt . Despite being a classic garment par excellence, the unusual combinations chosen by Markle give it a new and innovative flavor, abandoning a sense of rigidity for absolute softness.
On the one hand, the actress Meghan prefers the white shirt , combined with pencil skirts with geometric patterns or tight pants and solid color cardigans. The shoe is always an important décolle decollare té, with a high heel, ideal for the glamor of jet set events. On the other hand, the Duchess of Sussex revolutionizes her wardrobe to adapt it, in proportion to her tastes, to the needs of the court, choosing wider and lighter cuts , which she combines with pleated skirts, palazzo pants and couture garments such as long black Givenchy skirts . The presence of the blazer is also inevitable, which gives her outfits an aggressive aesthetic, inspired by men's tailoring, surprisingly contemporary in its being elegant and casual at the same time.
From the traditional version in white cotton to models with white and blue stripes passing through versions in emerald green, here are the many ways in which Meghan Markle wears the shirt , a perfect source of inspiration to make the most of this essential garment.
At a press conference at The Langham Huntington Hotel and Spa in Pasadena, California .
In New York at the Marc Jacobs Daisy Chain Tweet Pop Up Shop Party in February 2014.
(From left) Meghan Markle, Karen Craig, Georgina Chapman and Olivia Palermo at the Marchesa Voyage for Shop Styles collection preview in New York in September 2014.
In February 2018 he participated with Prince Harry at the Endeavor Fund Awards ceremony at Goldsmiths Hall in London with Tuxes shirt, black Alexander McQueen suit and Manolo Blah Niko pumps
Meghan Markle at Wimbledon in July 2018 with Ralph Lauren outfit.
In October 2018 at the Royal Pavilion in Brighton during the official visit to Sussex with Hugo Boss look
With Prince Harry during the Invictus Games in Sydney in October 2018.
Meghan and Harry arrive at Dumbo Airport, Australia for their official tour in October 2018. Meghan wears a Maison Kits UNE shirt, Outland pants, J. Crew boots and a Serena Williams Collection blazer.
On the occasion of the Endeavor Fund Awards at London's Drapers' Hall in February 2019, Meghan chooses a Givenchy outfit.
During the twelfth day of competitions at Wimbledon 2019 in Hugo Boss.
At the launch of the Smart Works capsule collection in London in September 2019 wearing two pieces from the collection.