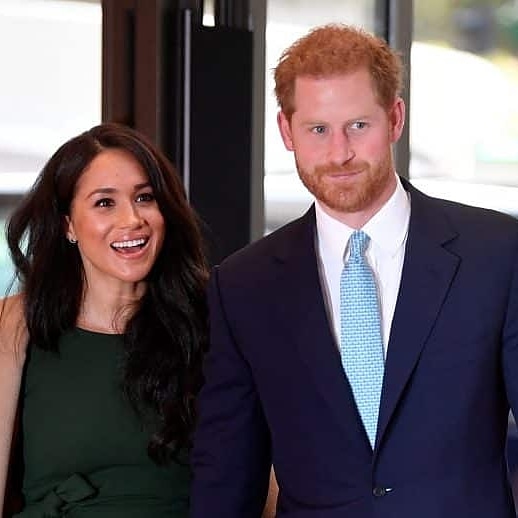 The Duke of Sussex today joined forces with celebrities including Ed Sheeran and Anne-Marie to surprise the winners of this year's WellChild Awards.
Prince Harry attended a private party for the remarkable children and young people recognised by the charity and the healthcare workers who care for them.
Before meeting the winners Harry swapped parenting notes with fellow new dad Ed, whose daughter Lyra Antarctica was born last year.
"Congratulations, a girl right?" asked Ed. "We just had a little girl ten months ago now. You're still in the trenches now! How do you manage with two?"
"Two is definitely a juggle," replied the Duke, whose baby daughter Lilibet Diana arrived on 4 June.
Speaking to another guest later, Harry said of Lili: "We've been lucky so far, she's very chilled and seems happy to just sit there while Archie is running around like crazy."
Harry and Ed caught up after the singer surprised the young winners, taking time to chat to them at their socially distanced tables.
The Duke, who has been patron of Wellchild since 2007, then introduced Anne-Marie to the stage for an acoustic performance.
Harry arrived in the UK last Friday and has been isolating at Frogmore Cottage, Windsor, ahead of today's event.
A source close to the Duke told HELLO!: "He was very excited to be able to be there in person. WellChild has been one of the charities he's supported for so long and it means a lot to him – perhaps more so now than ever since he's become a father himself."
The socially distanced afternoon tea took place on the Sir Joseph Banks Lawn at Kew Gardens and was attended by other famous faces including Amanda Holden, Ronnie Wood and his wife Sally and AJ Pritchard.
Harry last attended the awards with wife Meghan in October 2019, breaking down in tears as he paid tribute to the winners for the first time since becoming a father himself.
The Duke said: "Since becoming patron of WellChild in 2007, this organisation and the people within it have held an extraordinarily special place in my heart.
"I wasn't a father at the time, and yet the stories of these children and parents transcended that. I didn't need to be a dad to feel the impact of this invaluable work.
"Now as a father of two, I feel all the more connected, inspired and in awe of the resilience of these families, who power through indescribable challenges with the support of WellChild."
He added: "The health of our children, of all of us, could not have been more on the forefront of our minds during the past year.
"And, throughout this time, the WellChild community has set an example for how to show up and act with compassion for each other.
"I could not be prouder to be here, to meet this year's WellChild award winners, to thank the nurses and doctors for all they do, and to celebrate these amazing families."
Last year's event could not take place because of the pandemic and many of the vulnerable children, young people and families supported by WellChild have faced huge challenges during that time.
WellChild Chief Executive, Colin Dyer said: "There are more children and young people than ever before in the UK living with long-term, serious health needs. The Coronavirus outbreak has placed these children and families under more pressure than many of us can comprehend.
"The WellChild Awards 2021, in association with GSK, will be a unique opportunity to recognise and highlight the immense challenges they have faced and to celebrate the remarkable positivity, resilience and spirit they have demonstrated. It will also help us to shine a light on the dedication of those around them, from siblings, professionals and volunteers who have gone above and beyond to help them through such challenging times."
The Awards, sponsored by GSK, are run by WellChild, the national charity for seriously ill children. They celebrate the resilience of children living with serious illnesses or complex conditions and people dedicated to caring for them.
The winners were chosen from hundreds of nominations from across the UK to win the categories of Inspirational Child and Young Person, Young Carer, Inspirational Nurse, Inspirational Doctor, Outstanding Health Professional and Volunteer.