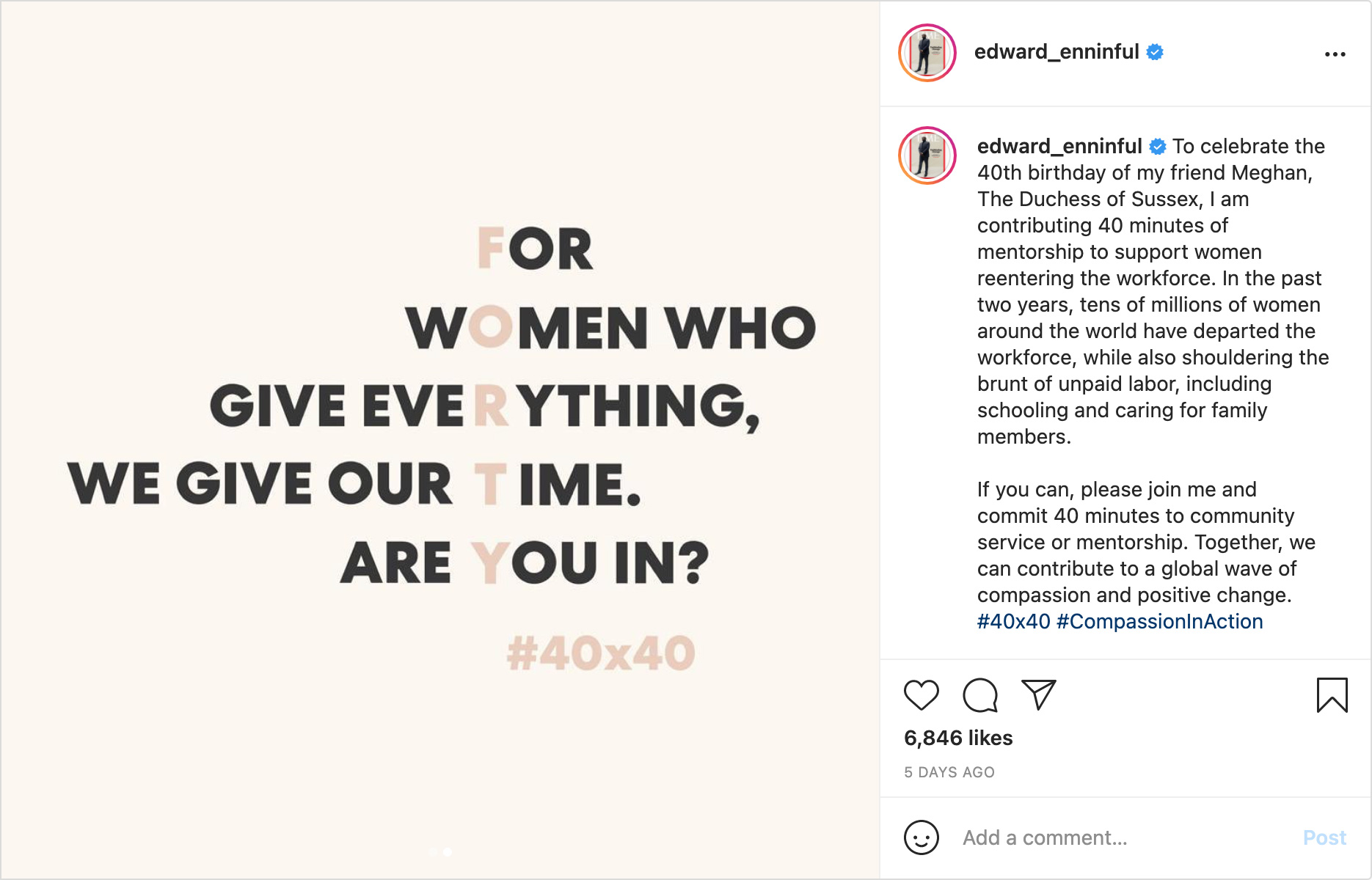 Meghan Markle 40X40 initiative is a BLOCKBUSTERS.
From archewell;
Last week, in honor of her birthday, Meghan, The Duchess of Sussex asked you to join her in donating 40 minutes of mentorship or service to a woman rejoining the workforce or another cause you care about. Not only did you hear this call to action, you took it into your own hands, creating a global movement of compassion and impact. Thank you to the friends who led the charge, and to all of you who joined to see it through.

Let's keep sharing our stories and the time we give to others. Let's keep helping women rebuild economic strength, and inspiring those around us to create a ripple effect of service. We can think of no better gift.
What we heard from you:
You're passionate about mentoring women; determined to help them return to the workforce; and ready to creatively give your time.

You're offering mentorship in a number of fields including:
Law · Hospitality · Nursing · STEM · Journalism · Academia · Consumer Packaged Goods · Aerospace · Media · Cosmetology · Public Sector · Medicine · Music Industry · Entertainment · Social Impact · Mental Health · Architecture · Communications · Programming · Yoga Instruction · Tourism · Accounting · Human Resources


Resume polishing · Childcare for mothers looking for jobs · Resources for children's mental health · Life coaching · Donating gas to women delivering groceries · Real estate consulting · Pre-interview hair and makeup · Graphic design for business cards and resumes · Consultation for mothers of children with an Individualized Education Plan · Mentorship to military spouses · Making clothes for girls who need them · Public speaking consultations · Raking leaves for elderly neighbors · Tutoring children in math · Supporting victims of domestic abuse · Donating books · Helping women create business plans


You're taking action from countries including:
Kenya · Anguilla · U.S. · Australia · Germany · U.K. · Canada · South Africa · Sweden · France · Nigeria · Uganda · Netherlands · Argentina · Philippines · Colombia · Portugal · Kenya · India · Spain · Mexico · Switzerland · Cameroon · Greece · Malaysia · Barbados

Let's keep it going:
Let's continue motivating each other. Keep posting about opportunities in your networks; keep reaching out and asking for help if you need it; keep thinking of ways you can support someone working towards a goal. If we lean on each other, we can help get women back to work in our communities and across the world.

Looking for ideas for committing 40 minutes of mentorship or service? Join the work we're doing http://Archewell.com