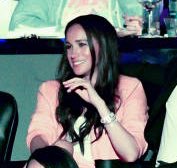 The day The Duchess of Sussex appeared at Lakers game, I discovered that the Recipe to looking good is to be loved and to love. This is evidence in the case of Harry and Meghan. GOD! I wish you could see them during the laker's game. Their love illuminated through the arena and it seems that it was contagious in that people who were near them seemed so happy I couldnt stop smiling looking at the pictures myself.
Meghan ,The Duchess of Sussex refelenced her pre-royal fashion staples while attending a Los Angeles Lakers game with her beloved husband Prince Harry . Her pink linen Staud set consisting of an oversize blazer and matching high-waisted shorts complimented her figure. She completed her look with a simple white top under the blazer . For the shoes, she wore her usual signature nude leather pumps by Aquazzura, one of her go-to brands.
The outfit gave us instant flashbacks to Meghan"s style pre-royal life when she often stepped out in co-ord sets and heels.
Below are her similar ensembles that she won in the past
Gianvito Rossi Gianvito 105 suede pumps-Aquazzura
Staud Eris shorts
Leset Margo cotton-jersey T-shirt
Staud Maxwell blazer


The suits star comleted her esemble with her often spotted accessories pieces that she has worn plenty of times in the past, including a beige leather Prada clutch and the gold Cartier watch which previously belonged to her Mother in law, Princess Diana. She finished the look with several stacked bracelets, a pinky ring, and earrings while Harry looked equally as casual in a navy blazer, white t-shirt, dark-wash jeans, and white sneakers.
Harry and His sweet wife enjoyed and shared a sweet moment on the kiss cam while being cheered on by the 20,000 attendees.


I hereby invite you to relish in Queen's stylish outing to the fullest as we dont know when this day will emerge to the fullest extent.