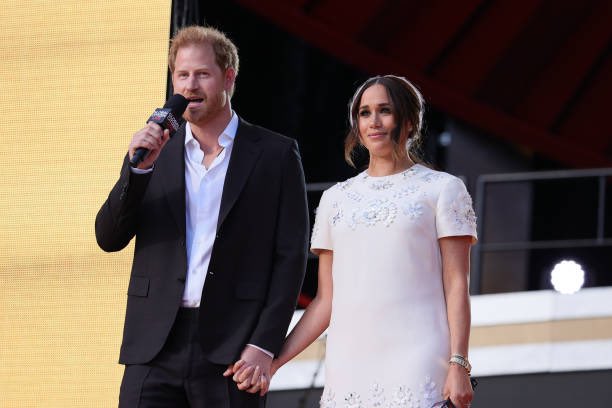 BRAND ENDORSEMENT POTENTIAL OF MEGHAN MARKLE AND PRINCE HARRY REVEALED IN NEW POLL.
Ad Age-Harris Poll examines the attitudes American consumers have about the couple in wake of Oprah interview.
The potential post-palace endorsement power of Meghan Markle and Prince Harry came into full view in the aftermath of their blockbuster interview with Oprah Winfrey when the patio furniture brand they sat on sold out online within a day. And Meghan Markle's quick mention of the "Humphrey Yogart" yogurt shop she worked at as a teenager resulted in a surge of business at the Los Angeles-area establishment, according to Page Six.
But the couple's biggest business opportunity is in apparel, streaming services and luxury goods, according to a new consumer poll.
About a third of Americans who watched the CBS interview on Sunday say they are more likely to purchase a product or service if Markle endorses it, and 28% said the same about Prince Harry, according to a new Ad Age-Harris Poll survey. Of these people, 57% listed apparel as the category they would most likely be swayed into buying if backed by the couple, followed by streaming services (54%) and luxury goods (53%), according to the poll, which was conducted online in the U.S. from March 10-11 among 1,031 adults ages 18 and older. Respondents name-checked a few brand collaborations they'd like to see including Gucci, Yves Saint Laurent, Balenciaga, Burberry and Yeezy.
The couple's popularity is higher with younger consumers: 36% of respondents ages 18-34 and 39% of those 35-44 say they would be more likely to buy a product backed by them, according to the poll.
"What our research shows is that Meghan and Harry have an impressive amount of clout with Americans," says Will Johnson, CEO of The Harris Poll. "And it's the younger consumers and the consumers who are already keyed into the royal narrative that are the most likely to engage with products or services endorsed by the royal couple—likely because these audiences appreciate Meghan and Harry's accessibility and relatability. There is an opportunity here for brands that align with the couple's brand of authenticity and wellness to create collaborations that appeal to these values."
Of course, Meghan Markle is already known for sparking interest in fashion—and any future collaborations in apparel would be a continuation of the style cachet she already carries. The Armani silk dress that Markle wore during her Oprah interview is sold out at most retailers, with very few pieces left, according to Lyst, a fashion search platform.
Lyst has been tracking "The Meghan Effect" since 2017, when a coat Meghan Markle wore for her first public appearance helped create a 164% increase in online searches for beige coats within 24 hours. Last summer, Lyst called Markle its "most powerful dresser of 2019," noting that her outfits, on average, result in a 216% increase in searches for similar pieces.
But Sunday's TV interview, which drew more than 17 million viewers, boosted Meghan Markle's profile beyond fashion as she opened up on topics of race and mental health, including saying that an unnamed member of the royal family expressed concerns about the skin color of the couple's son, Archie. She also described how she had suicidal thoughts and alleged that she was not able to get help from the royal family's human resources staff.
Openness 'a positive step'
Her openness about mental health was greeted favorably by American public: 55% of respondents to the Ad Age-Harris Poll said it is "a positive step that will help others in similar situations."
Meghan and Harry "in many ways have encapsulated that humanity and that authenticity that doesn't typically get associated with the royal family," says Ahmad Islam, CEO and managing partner of Ten35, an agency that specializes in reaching multicultural, millennial and Gen Z consumers. "When you compound that with the natural curiosity around the royal family, it elevated their relevance and [the] interest in the things they do and the brands they might get behind and support."
Among those paying close attention to the Sunday interview was Chelsea Hirschhorn, CEO of Frida, a mother's personal care brand known for its realistic portrayals of childbirth and motherhood. Two years ago, she published an open letter to then-pregnant Markle in the New York Times, asking her to be authentic and skip the unrealistic traditional royal baby photo outside the hospital following birth. Markle did not pose for a photo, and talked about this in the interview with Oprah, noting that she was not asked to.
Hirschhorn in an email interview this week with Ad Age said she applauds Markle for "challenging archaic conventions."
"There will be plenty of brands that seek to leverage her based solely on her growing profile," says Hirschhorn, referring to beauty and fashion companies. But Hirschhorn points out that only brands that have similar missions, including mental health, women's rights and equality, will resonate with relevant consumers. "Brands like ours who are equally as committed to authentic storytelling will find her an impactful spokesperson," Hirschhorn says. (Frida does not have a deal with Markle.)
The poll's positive consumer sentiment on a streaming services collaboration seemingly bodes well for Archewell, which is the name of the philanthropic and content production organization formed by the couple. It includes a partnership with Netflix that is reportedly worth $100 million and is said to include documentaries, feature films, scripted shows and children's programming, according to The New York Times. The content arm, dubbed Archewell Productions, "will utilize the power of storytelling to embrace our shared humanity and duty to truth through a compassionate lens," according to its web site. The Hollywood Reporter this week reported that the couple tapped Ben Browning, president of film and television production at FilmNation Entertainment, to spearhead the production company.